Mergers and acquisitions (M&A) activity in Australia was high in the fourth quarter of 2016, with US$45.6 billion worth of deals done, according to financial platform company Dealogic. There was also a 22% increase in activity to US$41.5 billion in the first half of 2017 compared with the same period last year, while deals in the US fell 16% to US$639 billion.
MinterEllison's Sydney-based M&A partner and Deals Chair, Victoria Allen, believes that Australia is attracting increasing interest from foreign investors for several reasons, including recent political uncertainty in the UK and US.
Here she discusses the latest developments in M&A – including changes to the Foreign Investment Review Board's rules and MinterEllison's success over the past year.
Has the strong fourth quarter for M&A activity in Australia in 2016 resulted in significant deal flow this year?
The market is particularly active and interesting in the transactional space at present and there is nothing to suggest that momentum is going to slow. We are living in a world of global mega-deals.
If we look at what they are calling the 'super abundance' of available capital, particularly in private equity offshore, Australia is extremely well positioned to benefit from the uncertainty in the UK as a result of Brexit, and in the US due to President Trump's political and economic agendas.
Australia is an attractive destination for global money, so we will likely continue to see increasing investment from overseas. There has been continued interest from China, which had a strong capital exodus last year. While capital outflow restrictions have been imposed by the Chinese government this year in an attempt to stem the flow, the impact of those controls alone does not appear to have been material. We continue to see Chinese buyers bidding for strategic domestic assets.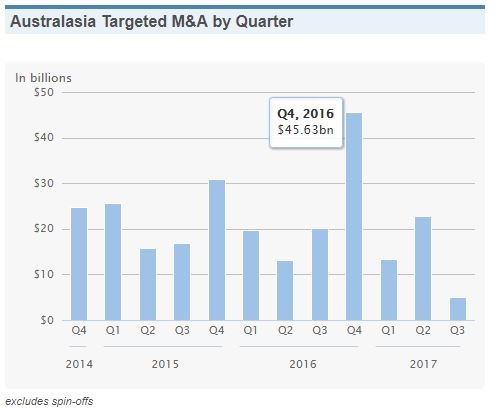 Source: Dealogic
Has the recent overhaul of the FIRB rules improved how deals are done?
The overhaul in the 2017 Federal Budget followed the December 2015 changes to the FIRB regime, which resulted in higher costs, more complexity and longer timeframes. Before the 2015 changes, the FIRB process would take 40 calendar days and we would be able to tell foreign investors that with considerable confidence.

Since the overhaul, we have less certainty over the timing, cost and outcome of the FIRB process. The uncertainty surrounding FIRB's process and application of foreign investment policy is creating a degree of tension between the government's policy statement that 'Australia is open for business' and the practical way that money actually flows into the country.

In practice, foreign investors are not on a level playing field in competitive sales processes. This is because they don't have certainty on the duration or outcome of the FIRB approval process. While there has been some simplification of the rules, there is still a degree of complexity involved. Having said that, however, the vast majority of applications are approved.
The Australian Competition and Consumer Commission (ACCC) is still involved in the approval process. What effect has that had?
Our experience has been that FIRB is approaching and working more closely with the ACCC. This may affect the timing of the deal and impact foreign investors' ability to understand the ambit of the regulators' considerations. We advise our clients to engage early with regulators to proactively manage the ACCC process as the ACCC may conduct a full assessment even if there appear to be no competition issues.
Is Australia now a more attractive place for foreign firms to do business?
Yes, but for reasons other than the FIRB changes. We have low interest rates, low inflation, the rule of law, political stability and attractive assets, although some are still considered to be overvalued. There is less uncertainty about Australia than other countries that typically would have attracted overseas investment.

Australia should benefit from the trans-Atlantic political uncertainty as UK Prime Minister Theresa May grapples with Brexit and trying to stabilise her government, and US President Donald Trump remains unpredictable.

Prime Minister May has increased the nervousness with comments about establishing a regime with a national interest test in certain transactions. President Trump is considering expanding the scope of the Committee on Foreign Investment in the US. While the FIRB regime may be less certain since the overhaul, Australia has a well-established regulator and articulated, legislated foreign investment policy.
How is the rise of protectionism in Europe and the US helping Australia?
In Europe, French President Emmanuel Macron says he supports the creation of a mechanism to restrict takeover bids on 'national security' grounds, and if President Trump blocks deals, that will again increase the attractiveness of investment in Australia.
President Trump ignited the protectionist issue globally with his insistence to 'put America first'. Much has been written and said about the US withdrawing from the Paris Agreement on climate change, which is seen as a historical turning point. It shows America may be stepping back from its traditional global role to concentrate on its own jurisdiction, which is a form of protectionism.
What should Australia do to promote itself as an investment destination?
With such vast amounts of money looking for a home, Australia has to be mindful of positioning itself as best it can to take advantage of the flow of global capital. While the global financial crisis is becoming more of a memory, people are more cautious and risk-averse than they used to be. As a result, Australia needs to protect its reputation as a stable and secure investment destination. It's attractive to people who are chasing yield in a yieldless environment.
What has been MinterEllison's record in M&A over the past year?
In the second half of 2016, we led the market in terms of the largest Public M&A transactions. MinterEllison acted on seven of the top 10 Australian takeover bids and schemes of arrangement for the second half of 2016. No other law firm came close to that level of involvement.
Interestingly, the acquirer was a foreign entity in the top five of these deals. This highlights the continuing trend of foreign investment in major deals in Australia. We advised each of those acquirers and submitted a successful FIRB application for each of them.
What does the future hold?
Continued strong activity is a foregone conclusion, but the way in which deals are being done is changing. I think the days of vanilla deals are long gone as people are looking to creatively structure and execute their deals. FIRB is having a hand in that as well as it favours foreigners partnering with domestic players.